Center of Excellence in Cyber Security
Against ever evolving Cyber-threats the need to graduate students skilled in the concepts and technologies of cyber security is becoming a critical responsibility of academic institutions in order to help preserve the sovereignty of the US and her allies. It is crucial that more undergraduate majors receive education and training that deepens their conceptual and practical understanding of issues in cybersecurity. In addition to educating computer professionals, undergraduate students of all disciplines should have the opportunity to be exposed to issues regarding computer security.
South Carolina State University's Center of Excellence in Cybersecurity (CECS) aims to address this problem of the lack of awareness and participation in cybersecurity using a Multi-Tier Approach to Cybersecurity Education, Training, and Awareness in the Undergraduate Curriculum (CSETA). South Carolina State University's Center of Excellence in Cybersecurity located in the Department of Mathematics and Computer Science serves as the focal point of all Cybersecurity academic activities.
Our Cybersecurity Center is
A member of  the Intelligence Community Centers for Academic Excellence (IC CAE) Program. 

This program was established in 2005 to meet the nation's demand for a diverse cadre of professionals to carry out national security priorities and obligations. The IC requires a diverse, professionally competitive and knowledgeable workforce to successfully accomplish its mission. (More Info)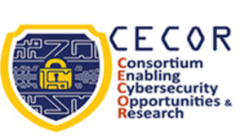 A partner in the CECOR consortium
13 HBCUs/MSIs from Georgia, Maryland, North Carolina, South Carolina, Virginial, and Virgin Islands (6 HBCUs were from South Carolina)
2 National DOE Labs (Livermore and Sandia)
Provided funding for curriculum development, recruiting faculty and Lab. Tech, student stipends, faculty and student professional development, K-20 outreach, and community awareness activities
Total funding – 25 million dollars for 5 years
Note: The contents of this site is develped and maintained by Dr. Young Kim, a professor of Computer Science. Some section of this site is currently under development.